Layaway Payment Plan
We get it. It's not always easy to shell out a few hundred dollars on a dress or even a lesser priced item if it does not fit in the monthly budget.
To make it easier we partnered with Lay-Buy™ powered by PayPal™ to offer you a great option to bring those Must-Haves into your closet easily with a few separate payments. 
Look out for the Lay-Buy button during checkout (the Lay-Buy option will be available past the shopping cart as a payment option during the regular checkout process, unlike Paypal Express Checkout and Pay by Amazon) and set up your plan on your terms. Just continue regular checkout until you arrive at the payment options.
HOW IT WORKS
Lay-Buy makes it easy for you to buy the products and services that you need by paying for them via a down payment and up to three monthly instalments.
AFFORDABLE: Our calculator allows you to select the down payment you can afford to layby today and the amount of months you need to pay off the product.
SECURITY: All Payments are processed within PayPal's secure environment.
CONVENIENCE: Payments are automatically setup between you and the seller with no intervention by either party ever. Unless a payment is missed.
FLEXIBLE: You can also call us to move the pending payments earlier or later.
CHOICE: A Lay-Buy Payment can be made and recurring profile setup via your PayPal account or your credit card.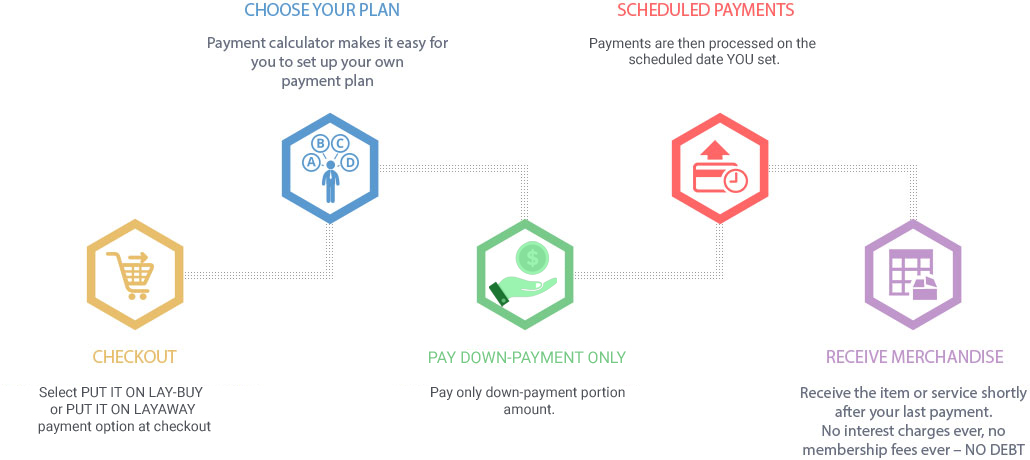 5 SIMPLE STEPS
1. CHECKOUT
Select Lay-Buy payment option at checkout.
2. CHOOSE YOUR PLAN
Payment calculator makes it easy for you to set up your own payment plan.
3. ENTER PAYPAL
Complete down-payment and setup recurring profile in PayPal's secure environment.
4. SCHEDULED PAYMENTS
Payments are processed by PayPal on the scheduled date YOU set. Check your order status within your PayPal reporting module. Contact us if you want to move your payments earlier or later.
5. RECEIVE MERCHANDISE
Receive the item or service shortly after your last payment.
No interest charges ever, no membership fees ever – NO DEBT.
Lay-Buy can be applicable to a selection of goods and services.